My Memories of Billericay
Joan's Billericay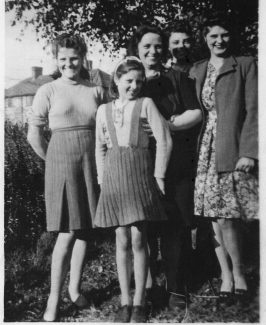 Joan Shirmer - found in book
Joan Shirmer (nee Tucker) November 2010
I was born in Becontree Heath (now Dagenham) on 15th July 1929. My name is Joan Shirmer (nee Tucker), I live at Hillhouse Court, Billericay, Essex CM12 0AT. These are my memories of Billericay when I was young. I am now 81 years old but luckily have the ability to recall things ok. My earliest memory is of Sunnymede where I lived aged about 3 years old in Meadow Way.
Where Hismans shop was at the end of Cavell Road near the Rising. We had a high form to stand on to look over the glass counter to pick our sweets (100's and 1,000's, Big Bag, 1 penny).
We were finally allocated a house in School Road, Billericay, previously called Foundry Fields. Children going to school in Laindon Road from Sunnymede cut across Mill Meadows from Jacksons Lane. Our house was number 35 and looked out at the back on a field of lovely poppies. I think the farmer was expecting more corn. There was a five-barred gate leading into the field where later Billericay School was built.
After a time the road was made up with an island half way down planted with trees. I went to school in the Infants in Laindon Road.
I loved it there and remember the hundreds of Cowrie shells we used for our 'Add and take away' lessons and also little 'Bean Bags' we used for P.E. If our work was neat and tidy, we got a silver star to stick in our books. If you got 10 it was one penny reward. You could get a lot for your penny in those days.
Eventually School Road was fully occupied and on the corner of Laindon Road end Mr Sam Harvey had his farm, the roof of which sloped right down to the ground. Dear old gentleman, but was sorely tried later on by hordes of Children 'Scrumping' his apples, when the new school was built.
In the old days when roads were 'Tarred' mothers took their children to the site to breathe in the tar fumes which was reckoned to be beneficial for children against Diphtheria and other chest troubles. These diseases killed lots of children in the thirties.
Miss Quilter was one of our teachers and had a school named after her. We all lined up along the wall in Laindon Road to pay respects to her when her funeral passed on its way to Great Burstead Church.
When we left the infants we could read, write and add up. Preparations were in hand to build Billericay Secondary School on our Poppy field. Billericay Secondary School had a superb playing field where we had super sports days. Mothers came with picnics and made a day of it. Everyone enjoyed them. More so if you won a race or two. On the other side of Milly Meadows was the sad old Dead Man's Barn, where the German airmen were laid after the Zeppelin crashed in 1916.
I remember the Muffin Man and the Winkle Man calling on Sundays along with Walls 'Stop me andbuy one' ice cream tricycle, as well as the scissor man who also sharpened shears on his bicycle contraption.
Our milk and bread was delivered by horse and cart. Milk was ladled out of a churn into our jugs. If you run out of bread you could go down Chapel Street to Cottis's Bakery to get one from the bake house. Also you could go to Mr Wrights Farm on Bell Hill and get milk and butter fresh. I remember dancing on the lawn of Norsey Manor which had lots of lights up in the trees.
There were also good dances in the Archer Hall – one shilling and sixpence to get in.
St Andrews Hospital also held dances, great social evenings.
I was 10 when war broke out. I hated having my Gas Mask fitted it was very claustrophobic. I was so glad that I never had to wear it for real. If the siren went when we were in the School shelters (which were built on our hockey field) and needed to 'spend a penny ', we all had to sing to drown out the noise of the Elsan toilet.
We collected Hips and Hawes for vitamin C for babies.
Soldiers used to line up at the bottom of School Road all kitted out ready for France. Two boys from School Road were killed in the first months of the war. We used to watch the 'Dog fights' over head and collect spent cartridge cases next day.
Shell Haven was always well alight after all the Jerries' visits. The bombers used to follow the River Thames and then bomb the docks. You could stand by Cramporn's on Sun Corner and watch the glow of London Burning. Any bombs Jerry could not get rid of over London they would drop them on us on their way home. Land mines were silent except for the 'tick, tick tick' and when the 'tick' stopped, there was a huge bang and you knew someone had "copped it".
A bomb dropped on a house called "Treece" on Hart's Corner and killed about 12 soldiers who were "billeted" there.
We had a "British restaurant" in the Women's Institute Hall with a lunch for one shilling and three pence. You could get 'afters' – very good too, for about 3 pence.
A soldier on duty at the top of Hurlock's (now the "Blue Boar") shot a land mine in mid-air which saved Billericay from destruction, but he got a court martial for acting without orders!
We had lovely shops in the High Street- Harrington's sold all things. I loved Hornell's – veg one side and lovely fish the other.
Also Mr Purdy's – grocery and haberdashery. Houghton's also was a double shop as was Moore's.
Mr Podd – grocery, and Leyland's.
Larrit's and Clark's the butchers on the other side of the high street. Mr Adams – Haberdashery. Most of the shops had a chair for customers to sit on while being served).
Nix the chemists also made up cough mixtures for us. Miss Wades was a delightful toy shop, also sold rice pudding and jam for tuppence. Christies was another magical arcade where we spent our pennies.
I remember a pageant over Lake Meadows (Boadicea). A plane came down behind the Archer Hall and just missed the Gas-Ometer in Burroughs Lane.
We had lots of fetes in South Green, bowling for a pig, stalls and games and Madam Ziska – fortune teller (who was really Mrs Redstone from the Red House at the bottom of School Road). Our market was at the top of Crown Road, very busy with lots of stalls and chickens. This market was granted to Billericay by charter in 1252. No one knows who closed it.
Miss Shelley was the first woman to own her own shop outright apparently. We had great fun over Mill Meadows with our make shift toboggans. I had a sack used for cattle feed from Mr Wrights farm. I put a cushion in it and was away down the hill faster than all the other ones, whose sledges 'dug-in' when the snow was very thin. Mine sailed across the thin layer of snow.
In 1947 I joined the W.A.A.F. as a Teleprinter Operator. I was posted to Bletchley in Bucks signals station.