Christine
History of a Billericay shop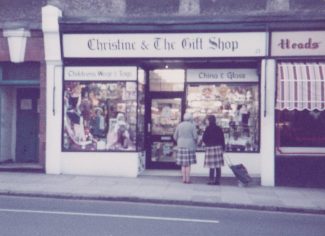 Mrs. Turner started business in 1948 aged 22 in partnership with her brother Mr Vinall of Hillcrest Nurseries at Herongate, having a retail shop in Brentwood selling plants.
After having a family of a son and daughter she returned to shop life when her daughter Christine was 8 years old. She took over The Shepherdess, a wool shop at Warley, Brentwood, in 1965 which she ran for 4 years. Then in 1968 she bought the childrenswear shop in Holly Court, calling it "Christine" after her daughter. 2 years later she expanded and bought the shop next door, making it into one shop.
In 1975 her husband Norman was made redundant and she decided to give up a quarter of her shop for Norman to start a Gift and China section. Soon this expanded and in 1976 she took over the shop next door on the other side. Then her husband was offered a job, so Mrs. Turner was left to manage 3 shops all in one with 3 trades to organize. Due to high rents in 1982 she was driven from Holly Court, after 14 years of trading there, and moved into 21 High Street.
The old "Co-op" shop was turned into a fabulous "small store", but Mrs. Turner, after 3 years, was beginning to find the running of this complicated business too much, especially with her recent move into a bungalow with a very large garden.
We never had an evening off she said, "so much bookwork, night after night. I decided it was time to retire before it was too late. Now after 20 years trading in Billericay, I must adjust to a less exciting life, which will not be easy, but I shall be glad not to have the worry and aggro of business life. I am looking forward to reconstructing my garden with rockeries and shrubberies and to growing plants again, as I originally started. I also hope to do some voluntary work and take up old hobbies again such as tennis, badminton, rambling, folk dancing, painting and reading. I would also like to thank all my staff and all my customers over the years for their support, and to say I have enjoyed my 20 years of serving the public in Billericay and Brentwood."
She is pleased to hand over her shop to Mr. Brannon who is going to start a bakery in Billericay, which will take the place of Cottis. "I wish him every success and hope he will have as much support from Billericay customers as I have had. One cannot beat being able to buy fresh food baked on the premises, so use YOUR High St. and support all your LOCAL SHOPS and keep Billericay High Street on the map"
The above wording was posted on the window of Christine & The Gift Shop when Mrs. Gene Turner decided to retire and close the shop at 21 high Street.