Hazel Morley - A Lifetime in Billericay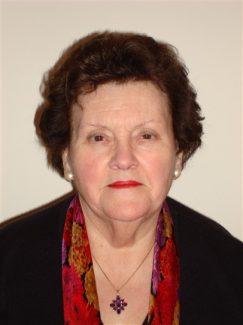 The original recording of the interview made on 19th November 2010
Hazel Morley (nee Martin) discusses memories of some special times in her life in Billericay in conversation with Sylvia Kent:
Hazel was born in the town, grew up in the town, was educated and lived here after her marriage and the birth of her two children.
I was born in Violet Cottage in Western Road and went to Quilters School and then to the Senior School in School Road.
I remember one dark night near Christmas I was with a group out carol singing and we decided to knock on the door of Basil Brooks in the High Street – of course the library wasn't there then. We sang one carol on the steps and to our amazement someone opened the door and said 'Mr Brooks wishes you to come into the hall' and we all stood round and he came down the stairs, a lovely staircase, as it is now, and we sang.  I believe he asked for a particular carol but I can't quite remember. But he was such a lovely man and so appreciative of the singing and we all stopped and talked for quite a while to him.
Basil Brooks was a JP, very well known in the town, he lived at Burghstead Lodge. He was into pretty much everything in the town. A lovely person.  His brother had a beautiful house on the top of Langdon Hills.
A terrible thing – the new plane was the Comet and we heard that him and his wife had taken the maiden flight and it crashed and they died. Terrible blow to the town and everybody.
Early childhood
When I went to school at Quilters my first teacher was Florence Powell. I'm sure everyone knows her. Very happy time at school, loved it. And she was splendid with all the little children.
Another thing I remember is when I was may have been 7 or 8, my mother used to take me into Miss Wade's sweet shop which is now Raven's bakery. Miss Wade used to weigh the sweets out on a little set of scales with a little shovel and they used to fall into the dish and I wanted to get in there and weigh out sweets. And I kept on and on to my mother So my mum spoke to her, I think she was Miss Clara Wade, a bit of a martinette. She agreed that I could go down on Saturday mornings and help her.  And so down I went, I don't know if I was going to get any payment or anything but I just wanted really to weigh the sweets and much to my surprise I was shown into the back room and I wasn't going to be weighing any sweets not then or ever my job was to dust and to look after the cat. So as you can imagine I didn't stay there very long!
Another little thing – over the Co-op which used to be at the bottom of the High Street there's a huge room and we used to have the dance school in there for small children. We used to do tap dancing and ballet. I remember that one of the carnivals we had to dance on the back of a big lorry on Sun Corner.  We did our dancing and I always remember we had to be lifted down – we were only little and Dr Wells lifted me down and I thought that was something special. Dr Wells belonged to the Wells and Perry brewing family and his wife was rather delicate. My mother used to go and sit with her some evenings for company.  He was a very nice man.
High Street
Ben Clarke senior was lovely and I always remember –  I used to have very curly hair, and we went in there, I don't know whether it was during the war or after the war but I know we were rationed with corned beef and he used to slice so much for each family; he was doing that once and I wasn't very old and he held the knife up and he said 'now I'm going to have your curls' and I jumped round the back of my mother! But he was lovely, I liked him.
I remember Fred Eales.  When I used to come home at night from the bus – I used to work in Chelmsford and walk up the High Street, he would know I would be passing at about ten to six and he was always waiting out the front to have a little word or to grumble about something or to have a look at my evening paper; and I got to know him quite well, he was a lovely old chap.  He used to make harnesses for horses and things and the pegs that are out there now if you look are evidently where things used to hang – where the museum is, I think it's part of his house actually.  He would have been pleased about that I think.
St Mary Magdalen
My Grandmother had her own seat there – the lady who lived in the High Street (see related article:  First World War Memorial )  there was Miss Wade's, then there was Bassom's then there was my Grandmother's house.
I'd like to know if anybody knows what happened to the house – because I don't know.  I'd be very interested to know what happened to it.
She had her own seat, her own pew. My parents were married there and my brothers and sister and I were all christened there and my girls were christened there too. I was married there.  Loved the church ,my sister and I had to go every Sunday morning to church, my brothers never had to go, we were a bit cross about that but we had to go; we used to have white berets – we had to wear a hat then.
My family now go to Great Burstead Church. We had a great welcome there and of course my husband died three and a half years ago and he's buried down there and all my family are down there so we thought it was more appropriate to go there.
Schools days during the war
P.G. White was the Headmaster at school.  I remember when the siren used to go we had to go into the shelter and we used to have a little box of food as well as our cardboard gas mask box. We used to practice, we had to all sit on benches , it was horrible, it was a concrete floor and brick building.  We had to practice crawling through the escape – oh I used to hate that – it was so small and on our knees and a little door at the end. That was our practice during the war. And of course we all had our shelters at home – our Anderson shelters and we often used to get over the fence and go into our neighbour's shelter. We heard all of the machine gunning, all of the dog fights over the back going up the Channel, it was awful.
It was an awful time.  My brothers were called up, they both went over on D-Day.  They've gone now I'm afraid but they came home safely.
Women's Institute
I don't know if it still is but it was one of the largest in the country. I was Secretary for 4 years and President for 5.  When I was President we had 170 members and 17 Committee and of course the wonderful thing is we own the hall.
We are actually older than County. This year was our 94th birthday so next year in March we are 95 which is really something. I'm a great believer in the WI I think they're great for women and have some wonderful events, we have had some lovely times there and good speakers. Its very nice for ladies to go there together I think.
Give me an idea of some of the memories you have of this town in which you've lived all your life
Well .. I met my husband at a Christmas party at the youth centre which they used to have in the Senior School – very successful youth centre, and when he spoke about getting married I said to him 'well, there's just one thing' and he said 'What's that?', I said 'I never intend to leave Billericay' so he accepted that.
..and you love it
Yes oh yes, I'd never leave Billericay.