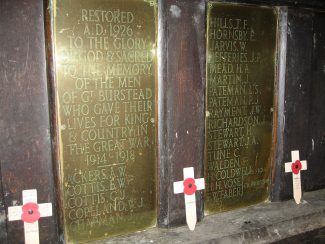 The memorial at Great Burstead is on the left side of the porch of St Mary Magdelene at Great Burstead. The memorial takes the form of two brass plaques containing the names of fallen of the First World War. There are no Second World War Names commemorated here.
Click on the names below to read more about the men and click on photos to enlarge.
The Brass plaques read:
RESTORED A.D.1926 TO THE GLORY OF GOD & SACRED TO THE MEMORY OF THE MEN OF GT. BURSTEAD WHO GAVE THEIR LIVES FOR KING & COUNTRY IN THE GREAT WAR 1914 – 1918
ACKERS, A.W.

MARTIN, J.

COTTIS, E.W

PATEMAN, L.S.

COTTIS, C.J.

PATEMAN, P.J.

COPELAND, W.J.

RAYMENT, J.W.

CHAPMAN, J.

RICHARDSON, J

.

HILLS, T.F.

STEWART, H.
HORNSBY, E.

STEWART, J.A.

JARVIS, W.

TUNE, C.

JEFFRIES, J.P.

WALDEN, F

MEAD, H.A.
H. COLDWELL, VICAR
H.H. VOSE,
F.W. FABER, CH. WARDENS
it is reasonable to assume that H. Coldwell was the vicar and Vose and Faber were the Churchwardens at the time of the restoration of the plaque in 1926.
All of the above men are also commemorated on the Billericay memorial with the exception of  Hornsby and Rayment.