Gt. Burstead Junior 1965
The Clevedon Trip and other Memories
By John Davison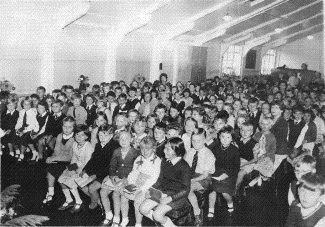 I came across this website by chance and was pleasantly surprised to see my name mentioned by a former classmate, in the page  about Great Burstead County Primary School Teachers, which obviously made me read on setting my memory to work.
I always remembered the Primary School as Billericay, not Great Burstead, Junior School, Laindon Road. I have fond memories of the place, staff and pupils where I attended from 1960 to 1965 when I moved on to Mayflower until moving on again in 1967 to the New Forest. There is a photo (right) that I have kept of an assembly, I am in the second row in the centre of the photo with a short sleeve white shirt with a tie, and I can still recount lots of my classmates. In the fourth year I was a house captain and languished in a class of about 43 with Mr Williams. I recall how we were squeezed into the classroom but didn't think about it at the time. My class in 1965 went to Clevedon in Somerset for a week as one of the first annual holiday outings. Sue Robertson mentioned the Kent trip. (Did others follow the next year?) On the way there we stopped at Stonehenge and were allowed to climb over the Saracens, can you believe that? We also stopped for lunch in the Savernake Forest and I have a picture attached of that as well. Does anyone recognise all the faces, a couple still elude me.
We visited many famous locations including Slimbridge, Cheddar Gorge and Wookey Hole. I had elected to make a balsa wood and papier mâché model of Clifton suspension bridge with a classmate and it was fascinating to walk across the actual construction and compare the detail with our mock-up. Another school project I had was the study of the battle of Sedgemoor which was the last battle fought on English soil. By coincidence I had a couple of friends who moved to the village where this happened, which has the unusual name of Westonzoyland near to Bridgewater. They were intrigued how I knew so much about the history of the area until I owned up to what I had learnt at Billericay Juniors.
We used Clevedon as our base where there was a specialist hotel for children to explore the region. We walked on the pier and also went to Weston-Super-Mare. One lasting memory I have was watching a section of the future Severn Crossing Suspension Bridge being lifted into place and I thought about that whenever I crossed the structure in my later life.
I was allowed to skip the induction class with Mrs Arthy as I had attended a local Kindergarten. Miss Pike made us stand on our chair and recite the times tables. I always stumbled with the 9x and was intrigued when my son came home from his school later in life and explained a simple finger trick to calculate the answer. If only I'd known. In her class we also had to go to the next class in turns to see if it was going home time, as there was no clock in her room, which taught me to read the time. Even now I usually relate to an analogue format and will not necessarily realise the actual time if I'm reading a digital display! I wasn't very sporty but enjoyed the summer with athletic activity but dreaded football where were chased the ball as a single pack of 20+ which did nothing to hone my interest in the game. Playground supervision was by auxiliary staff under the guidance of a regular teacher. One lady I recall was Miss Probert who invariably was referred to by the children as Miss Robot, I wonder if she ever knew?
From a plan of the school site you can see the toilets were outside in the playground and the girls' had a passage in the centre which was a dare for the boys to run through. Of course I never did that but I remember bashing my nose on the corner of the building when running which we did a lot of at that young age; the block was obviously not big enough to see. Mr Doyland encouraged me to learn to play chess, what a great guy he was. Mrs Adams, I think, gave us singing lessons and I always recall "Kookaburra Sits on an Old Gum Tree". I also had to learn some poetry for an evening recital that was held in the senior school up the road. Verses I learnt included Going On An Errand which was about a small boy who had to repeat his shopping list least he didn't forget it but it got more convoluted the longer he repeated it; Five Eyes about three cats that lived in a windmill where one of the animals only had a single eye; finally the first couple of verses of that Alfred Lord Tennyson epic The Lady Of Shallot – On either side the river lie long fields of barley and of rye".
My recollection of the house names was Martin, Brown, Power and Langman but I'm not sure that is correct, all from Quaker families that sailed on the Mayflower. Power was green as that was my House but research tells me the name of the Pilgrim was actually Prower and Langemore as the other. It's strange how your mind confuses things. For a history lesson we were marched up the High Street to visit Chantry House which was a Pilgrim Meeting Room but for me had only ever been a restaurant. Imagine when we were conducted up a narrow rickety staircase to reveal the room had a dramatically sloping floor much like the Crooked House at Westcliff amusement park. Amazing the Inn is still standing and has preserved the detail.
Very nostalgic to see the names of some of my classmates here, where did the time go? Over the years I've tried to locate old friends and I would love to hear from Alan Burkett (?) who rang the end of break bell and Peter Brooks or anyone that remembers me.